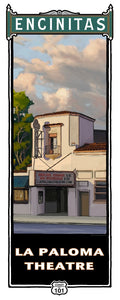 This Giclée commemorates the history of Encinitas and its classic theatre. The La Paloma Theatre
 is a historic Spanish Colonial Revival style movie theatre. 
It was constructed in 1927-28 and was originally a silent movie theater with 540 seats. It had an orchestra section and a small balcony section. This version is only available as a Giclee print on fine art paper...so it carries a bit higher price than the printed posters in the series.